Bitdefender has a great collection of security software. But here we mention the top rated software of the company Bitdefender Family Pack Vs Total Security.
Bitdefender products and software aim to provide offline and online cybersecurity to its customers. It was founded in 2001 by Florin Talpes. It is based in Romania. It was ranked 7th among the Microsoft Windows anti-malware application vendors in the world.
As of now, it protects more than 500 million systems in the world. In the beginning, it was created as an anti-virus software, yet today, it has a bigger variety of products under its arena. Some of them are-
Bitdefender Total Security
Bitdefender Box
Bitdefender VPN
Bitdefender Digital Identity Protection
Bitdefender GravityZone portfolio (for businesses)
Bitdefender Family Pack
In this article, we will make a comparison among two of its most famous and widely used security antivirus products- Total Security and Family Pack.
Comparison of Bitdefender Family Pack And Total Security
Before comparing the features and services of security software read about the speciality of Bitdefender Family Pack And Total Security.
Bitdefender Total Security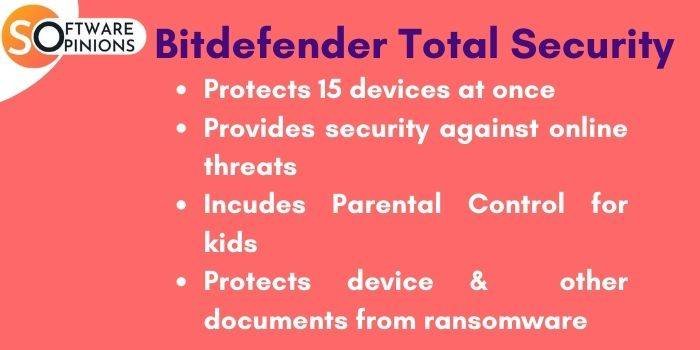 The Total Security package provides customers protection for their devices. It has a threat detection feature that stops malware from entering the device. It provides best protection without hindering the performance of the computer. It also includes a VPN service that provides you privacy and security of data while using the internet. All the benefits of a VPN such as unblocking Geo-barriers and restricted sites, safety of the data on your computer.
Total Security also includes in its package, parental controls, using which you can decide what your child watches on the internet. Using this your kids can be protected from the wrath of explicit content or anything suspicious on the internet.
Bitdefender Family Pack
The family pack of Bitdefender is an ultimate protection pack for the complete family's online solutions. Using this pack, you can protect up to 15 devices simultaneously. It protects devices from online threats. Software includes parental control features of Bitdefender Family pack for Kids. It also has a multi-layered ransomware protection, that protects the documents and other files on your device such as images, videos, music files etc. from attack by ransomware. It also provides VPN service to its users for online protection from threats occurring through the internet.
Compare the Features and Services of Total Security and Family Pack
To find the exact difference between the services of Total Security and Family Pack of Bitdefender read the below mentioned information.
Difference in Simultaneous Device connection
The main difference between Bitdefender's Total security and Family Pack is the number of devices. Total Security can work with 10 devices at one time. With Family Pack You are allowed to connect 15 devices simaltaneously.
Speed and Performance Of Total Security is Good
The features where Bitdefender Total Security exceeds is that it has an optimizer in built, that helps improve the speed and performance of your device with a single click. Family pack lacks this feature.
Anti theft Feature is Absent in Family pack
Total Security has in itself an Anti-theft feature, which protects the files and documents on your device as well as your online accounts from loss by theft or any other reason. The Family Pack does not acquire this feature.
Protection Of The Devices
When we talk about protection of the device, Total Security is way better than Family Pack. Whether we talk about Android, iOS or Mac Operating systems, Total Security has a built-in feature which provides extra security to all the devices. This is not the case in Family pack and thus, it is not that effective as a protection software when compared to Total Security.
Other features of Bitdefender Total Security
Web protection (protection from malware or phishing that occurs online);
WearON (protection for the SmartWatch that is connected to Total Security);
App lock (stops unauthorised access);
Battery saver
On Demand scan (a scan whenever you fell doubtful about your PC's security) and On-install Scan (that automatically scans a newly installed application to make sure it doesn't bring any unwanted content with itself).
Similarities Between Bitdefender Family Pack And Total Security
Threat detection and Threat defence- It detects and protects your computer or device from any kind of threats online or offline.
Prevention from web attack- It protects your device from the attack through the web in the form of viruses, Trojans, malwares etc.
Protection from Cyber Threat- Cyber Crimes are very dangerous nowadays, and may lead to loss of data online and other such problems. Both Total Security As well as Family Pack give you protection from Cyber threats.
Multi-layered Ransomware protection- Both of them provide multi-layered protection from ransomware.
Autopilot- This feature automatically detects and recommends the best security provisions that might be required for your system according to its needs and usage.
Battery mode- This mode automatically increases the battery life of your device by reducing brightness or removing all background applications.
VPN services by Bitdefender VPN- Bitdefender VPN is provided to the users of both Total Security as well as Family Pack.
Secure online banking– The risks of online banking pose a great threat to the finances of people. Family Pack as well as Total Security provide protection from frauds of Online banking to their customers.
Password manager- Today, it is very difficult to keep track of all the passwords of your cards, accounts etc. Both Total security and family pack have features that do this work for you.
Parental control- Using both of these products, you can take care of your child's activities as well as ensure his protection from online threats.
Automatic Upgrades- Timely updation of the software occurs so that no feature is missed out and better experience is given to the users.
Online support- Whenever you have a query regarding any of these softwares, you can easily get a solution to your problem through its online support facility.
Final Words- Bitdefender Family Pack Vs Total Security
The Family Pack and Total Security pack of Bitdefender have a lot of common features. However, at some places, Total Security goes way beyond Family pack and is a better option. However, depending on your needs and likings, you can easily decide what's best for you!
According to our research Bitdefender Total Security is the best option for you. It is a complete security software for the users. The services of software keep your and your kids online activities and devices secure.