Recording the screen of your phone might be necessary for various purposes. A teacher would want to record his/her screen to generate video lectures for its students. Similarly, a gamer or a content creator might want to create gameplays and illustration videos respectively. The biggest point is most of the people fall in love with the iPhone and now they are looking for the Best Screen Recorder For iPhone Free.
Free Screen Recorders For iPhone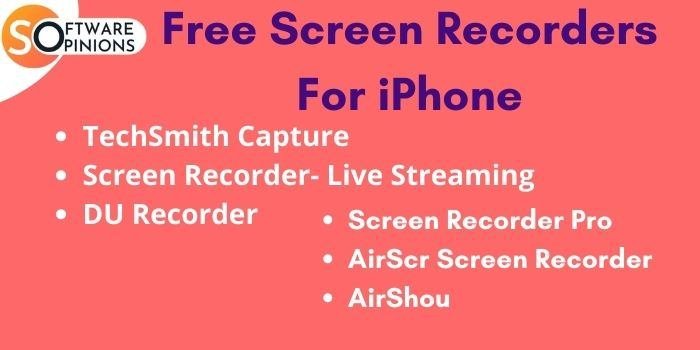 So keeping this point in our mind we conduct a list of the best screen recorders that support the iPhone. It includes both Free and Paid Screen Recording Software for iPhone. So choose the best that works for you effectively.
Built-in Screen Recorder
It is one of the best screen recorders for IPhone users, It is preinstalled in apple devices. You no need to pay any extra charges to use its services. But, many of the users say that it is good if you are using this software for your own purpose. If you are a professional one then your choice should not be this one.
Reason to Choose Built-in Screen Recorder For iPhone
It supports apple devices to record videos and capture videos/photos.
The software pre pre-installed on Apple devices and there is no need for additional downloads or purchases.
You can easily capture video and image with the sound.
The software allows you to edit the videos and photos captured by basic tools such as crop, rotate, and some filters and effects.
Although it does not allow you to capture your video through the camera or any external sound.
The quality of the videos recorded is decent and the interface is smooth. It is very easy to use.
User Query- How to record screen and face at a same time on iPhone?
TechSmith Capture
Techsmith is a well developed brand when anyone talks about recording and editing software. It is very much familiar with the users requirements and makes lots of new changes in its software. For iPhone users the company created a different software named Techsmith capture. Techsmith Camtasia is popular among the windows and macOS users and now capture is creating its own dedicated space.
Qualities of Techsmith Capture
You can record your screen in high quality to create HD and 4K videos.
You can also add your voice to the video through the microphone in order to add narration or voice-overs to the video.
It comes with a clean interface where all your files are organised and you can easily review them and delete them, or even share them to various platforms such as Facebook, Instagram etc.
You can easily share your files to the computer if you are using Camtasia on your computer for the purpose of screen recording.
Screen Recorder- Live Streaming
It is a screen recorder for the iPhone users that helps in reading and broadcasting the live videos on multiple platforms. The software comes with advanced video editing tools that make your video editing task easier.
Why Screen Recorder – Live Streaming?
It is another free to use app which helps you to record the screen of your phone and convert it into videos.
Powerful tools which you can use for the purpose of video- editing. So you do not have to find another Best Video Editing Software.
It also allows you to create a custom watermark, which you can add to your videos in order to ensure that they cannot be copied by anyone else.
You want to write or draw anything on the screen while recording it, for that it comes with a whiteboard feature where you can draw or write for better illustrations.
DU Recorder
It is free to use screen recording software for the Iphone users. The software has many amazing video editing tools and filters. but the only drawback is at the end of the video you will see a watermark of DU recorder on your videos. to remove that watermark you need to get its paid subscription.
Reason To Choose DU Recorder
Free to use app, but will come with its own watermark which will be added to all your videos.
It comes with a great set of tools which can be used for editing videos such as trim, crop, merge etc.
It also comes with many filters which enhance the look and quality of your videos.
You can also use a DU recorder to live stream your phone's screen directly to apps such as YouTube, Twitch and Facebook etc.
It comes with some in-app purchases which you can make in order to change some features. Such as the watermark that appears can be removed by paying some amount.
Screen Recorder Pro
It is one of the relevant choices of free professional grade recording software. A complete video recording, editing and streaming software free of cost.
It is one of the professionally used yet free software which helps you in recording the screen of your iPhone.
It also allows you to capture your own audio and add it to the video with the help of a microphone.
You can also edit your video with its basic tools and features.
You can even add your own video which can be recorded through the camera of your phone.
It comes with many annotation tools which allow you to add captions and annotations to your video.
Its brush tools help you edit your video and it also comes with many stickers which can be added to the video.
AirScr Screen Recorder
You can capture the screen in the form of video and its original audio with the help of AirScr which is a free to use screen recording app for iPhone. It comes with many editing features, which can help you to edit your videos and even merge it with other videos.
Specialty Of AirSCR Screen Recorder
It also allows you to add your audio to the screen recording when needed to give instructions or for better illustration and explanation.
You can even add your own video with the iPhone's camera in order to give explanations or reactions, or for the purpose of interaction.
You do not need to go to any other video editing software in order to add effects and features or objects such as voice and video.
AirShou
It is one of the best screen recording software for all the users. The software is an excellent choice for recording Iphone screen without having any trouble.
Why Choose AirShou?
It is a screen recorder for the iPhone which takes up a very little space on the storage of the phone, yet provides good quality results to the users.
It is free to use and is used widely by many professionals and content creators.
It can be used for recording gameplays due to its high-quality video experience and fast speed.
It comes with total screen coverage of your iPhone and thus you can easily and freely record anything on your iPhone with it.
Conclusion- Best Screen Recorder For iPhone Free
We conduct a list of Best Screen Recorders for iPhone Free. You no need to pay a single coin to utilize the mentioned software services. But most of the software doesn't remove their watermark from your videos if you choose it's free version. you need to upgrade its plan to remove a watermark. Otherwise, the software is an excellent collection that you can use for editing, recordings and streaming videos and photos.