As we all know Wix is one of the best website builders, but it does not fulfill all the needs of developers. That's why they search for Wix alternatives, so we are here to provide you with the best alternatives for Wix. But first, let's know more about Wix website builder.
Wix is the website builder that allows you to create a custom site quickly and easily without having to know how to code. Wix is popular among site owners who don't want to deal with technical aspects of running a site, such as security and backups. The service offers website building tools and hosting in one place. For individuals, small businesses, and online retailers, Wix offers a free plan and also a range of premium plans.
With the free plan, you can edit your website using a drag and drop editor, select from over 500 templates, and create unlimited pages. The drawback is you will be assigned a Wix subdomain and have ads displayed on your front end. This might be appealing if you are a beginner who needs to keep costs low. For some, this may be a deal-breaker.
Upgrading your plan to one of the premium plans will allow you to register a custom domain, remove ads from your site, and get even more advanced features. With Wix's built-in eCommerce, blogging, SEO, and analytics tools, you can configure and optimize your site so you can attract more visitors and grow your business.
In spite of this, Wix may not be the best solution for every user. Now, let's discuss Wix alternatives to see what are the best options for you.
What are the reasons you should consider a Wix alternative?
At the time of this writing, ToolTester statistics show that Wix is one of the most popular hosted website builders. In addition to having an intuitive user interface that even beginners can understand. It also offers more customization options than its DIY competitors. As a hassle-free web design solution that appeals to both new startups and established brands, Wix offers the perfect middle ground.
The following kinds of websites are better suited to Wix:
Forums online
A site that allows users to book appointments
Forms of contact set up
Simple way to start an online store
Websites for blogging
While Wix has its share of advantages, it also has its share of disadvantages. As an example, there are a number of cheaper options available. Even though Wix offers a limited free plan, you will have to pay to remove the automatic ad that sticks to your screen all the time. Despite the affordability of Wix's paid plans, you can still find the same or comparable services. When you use the Wix alternatives you can find all website developing functions for less.
The loading times of Wix websites are also often complained about, which are only made worse by their increased size. Wix is good for small sites such as landing pages and portfolios. But when you add additional features, it slows down for your visitors. The method becomes untenable for large sites or eCommerce stores with a high number of products.
It's not surprising, then, that the popularity and hype won't make up for the drawbacks. Specifically when you're working with a tight budget or need to build a large site. This isn't the only reason you should consider an alternative to Wix. Here are a few other reasons.
Wix Is The Only Host For Your Website
Probably the biggest complaint that most entrepreneurs have with Wix is the only platform where you can host your website.In addition, you can easily host your website with any company. If you are using another content management system like WordPress. In contrast, if you create a website using Wix, you can only choose to host it through their service. A growing company may be limited by this approach to offer "convenience," but the company is trying to make it look convenient. You'll probably be searching for better hosting options for your website as your business grows. When you build your site using Wix, you can't really switch to a different platform.
The data you upload cannot be migrated
It is not possible to migrate your data from Wix, even if you are lucky and your website is performing well. This is one reason so many people search for alternatives to Wix.
What if you want to add features to your website that Wix doesn't have, or if you just need a complete redo of your whole website? The process of moving your content away from Wix is rather tedious. You could just add a new theme to your WordPress website if you were using it.
Everything you need to post would be there. In this case, however, you will need to enter all of your content on your website once again. And if you want to move away from Wix.
The process is quite complicated, as you can imagine. There might be a better choice out there when it comes to scalability than Wix. There are some alternatives to Wix which provide better migration capabilities.
You might be surprised to learn how much Wix costs
Wi's base offering is free, which is why so many users love this platform. Its freemium model, however, can cause prices to go through the roof based on how many features you need.
Losing revenue is probably the most significant cost you might face. You can imagine how much it would cost to build a website by someone who doesn't understand how one works. Due to this, the website cannot be found or does not function as well as it should.
The result is that you lose money in the end. While WordPress, on the other hand, is free to install, there is no fee associated with Wix.
What are the key features to look for in a Wix alternative?
You should look for a number of things when comparing different alternatives to Wix. We've outlined some of the key factors you should evaluate when considering different Wix competitors.
Web design that is responsive
When it comes to creating responsive websites, Wix is fairly good. Having a responsive website design is critical. It is given that Google rewards mobile-friendly and responsive websites. You should also be able to preview your website's look when it loads on mobile through the website builder that you choose.
Editing tools that support drag and drop
A major selling point for Wix is the ease with which you can create websites through drag-and-drop editing – no coding required. There is no restriction on the types of websites that Wix can create. It is one of the reasons why so many entrepreneurs prefer Wix over other website builders.
You must also ensure that any alternative you choose has that capability. Having the ability to customize your website will give you the freedom and flexibility that you desire. Ecommerce store owners should also consider other important factors, such as security, search engine optimization functions, and shopping cart management tools.
Flexibility
There are a few scalability options with Wix, which is another reason people want to switch. Especially when it comes to larger online stores, Wix is not suitable. If you want to develop your store, you will need a platform by which you can grow and be able to migrate your data.
When you expand your store, Wix limits you to a limited set of templates and themes. So you can't switch to another template once the site goes live.
The price
The first requirement is a no-brainer; choose an affordable platform that doesn't cost an arm and a leg to build and host. Make sure to compare the prices charged by different platforms before making your decision.
Remember to keep in mind that comparing "price starts from" isn't always a good idea. In most cases, the rate you pay will be significantly higher.
It is fortunate that there are some great website builders on the market today, such as Wix, which give better functionality and are also scalable. The following builders are some of the most effective alternatives to Wix.
WordPress
WordPress.org is used by over 40% of websites, including sites like TechCrunch and The New Yorker. What makes WordPress.org an excellent alternative to Wix is that it is free to use.
WordPress is at its core a content management system, and it excels across nearly every industry. If you would like to build an online store or a custom blog, WordPress can handle it all. There is an array of themes that you can use to customize your website, and it is incredibly intuitive.
There are many reasons why WordPress is so popular, one of which is that it allows for the integration of as many plugins as you like. It also allows for customizing your website as you like. It is also an extremely easy platform to use. As well, you do not need to restrict yourself to a single host.
If you choose a WordPress hosting provider and use it on your website, you can ensure your website runs smoothly. With this, you have complete control over choosing what hosting provider to use. In addition, WooCommerce allows you to incorporate a bunch of different extensions to further improve the performance of your store.
WordPress is a great tool for creating scalable and flexible websites. The WooCommerce e-commerce platform will enable you to create amazing stores.
Among Cloudways' offerings is the WooCommerce Starter Bundle. There is a selection of core plugins already integrated into the bundle, so it is ideal for people looking to set up their own store. Some of the most popular include Stripe Gateway, PayPal Checkout, Kadence Email Designer, and others.
There are both disadvantages and advantages to WordPress
Advantages of WordPress
There is no charge for the software: As long as you pay for hosting, you are completely in control of how much you spend each month, since you can research different service plans.
Flexibility and scalability: You also have complete control over the features of your site. As it grows, you can easily make improvements.
Easily expandable: There are enough templates to build ANY kind of website, from (multilingual) real estate databases to digital publications.
Disadvantages of WordPress
Having complexity: The learning curve is steep and the installation process is tedious.
Protection and maintenance: Plugin updates and version updates are important to keep track of. You can completely ignore these things if you use a web builder like Wix.
Deficiency of support: To find out more, you'll have to visit the support forums. Many of them are disorganized, and it can be hard to find good information there.
The pricing and plans of WordPress
There is no charge for WordPress.org because it is a completely free open-source platform. The only difference between WordPress.com and a custom domain is that you have to buy a domain name. Along with any premium themes and plugins that you need.
You should be able to get by with a few dollars per month at the cheapest end of the spectrum. Nevertheless, if you're not careful, prices can stretch to thousands of dollars per month.
Hosting Price: For hosting WordPress.org, it costs approximately 6 Dollars a month. The WordPress.com website provides its own hosting, starting from 4 Dollars a month.
Template Price: The cost is about 50 Dollars. This is a one-time fee. Free templates are available, so you may not need to pay for this.
Plugin Price: The average cost per year ranges between 0 and 200 Dollars. Totally optional.
The Price of a Programmer who will handle your website: An hourly wage of at least 30 Dollars is required. It may be necessary to hire a developer if you need customized support or complex tweaks. However, this can be quite expensive.
What makes WordPress.org better than Wix?
If you're interested in using the world's most popular (and arguably most powerful) website building system, then WordPress.org is your best bet. With a large plugin and template library, full code access, and largely unlimited design flexibility By this your site's design will only be constrained by your own creativity.
Squarespace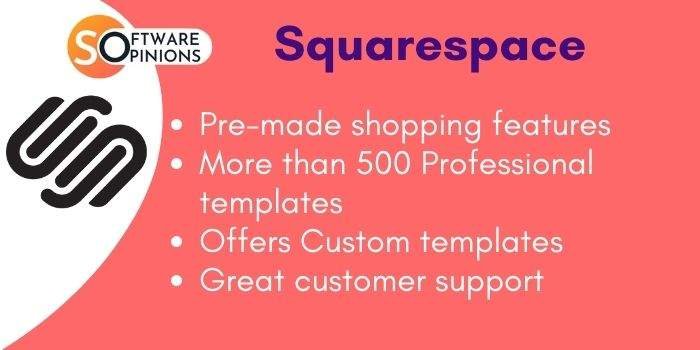 If you want to design something good-looking, Squarespace is the best Wix alternative. The clean, structured look of Squarespace, however, may be too appealing for Wix, which offers over 500 professional templates.
Some people love Wix because of its drag and drop editing tool. But some others dislike it because this style of editing is unlimited and inconvenient. If your website contains one wrong click or slip, the viewer will end up feeling disjointed and unbalanced.
Nevertheless, Squarespace's templates make use of sections, spacers, and blocks to guide and direct you during the customization process. Furthermore, Squarespace offers custom templates. So it's clear why this platform is a favorite for aesthetics.
Our research ranked Squarespace as the best builder when it came to brand, user experience, and design, thanks to the ease of its templates and the style of its design.
There are both disadvantages and advantages to WordPress
Advantages of Squarespace
A superb collection of templates and designs: There is nothing to complain about. Websites look impressive, sleek, and modern.
Platform for blogging that is strong: In terms of blog management, their software is second only to WordPress as long as you don't need SEO features.
Support that is outstanding: We appreciated the speed and helpfulness of the answers we got through live chat.
Online stores are great: There are many ecommerce tools available through Squarespace, and you can even sell services on your website.
Disadvantages of Squarespace
The price is not the cheapest: Pricing at Squarespace is higher than that at competitors.
There is no free plan: To get started, you have to take advantage of their trial offer, but once that's over, it's pay or unpublish.
Makes use of big, professional images: It is for that reason that their templates look so good. Swapping them with something else could cause it all to come crashing down.
A faster system would be beneficial: It sometimes feels like their loading speed is a bit slower than others'. In the long run, this isn't good for SEO and user experience.
The pricing and plans of Squarespace
There is no free forever plan with Squarespace, contrary to most of the Wix alternatives on this list. Although, it does offer a 14-day trial of its premium subscriptions so that you can check them out.
Prices for Squarespace plans start at 16 dollars a month for a Personal subscription. Increase to 26 dollars for a Business subscription, 35 dollars for Basic Commerce. And 54 dollars for Advanced Commerce.
What makes Squarespace better than Wix?
Similar to Wix, Squarespace is a popular website builder. These two platforms both offer drag and drop capabilities that let you build more than just pretty websites. Whether you want to create a basic portfolio site or a full-scale online shop, Squarespace can accommodate your needs.
In the early phases of your business, Squarespace may not be the best platform for you. You are obliged to learn how to use their tools at first.
Shopify
Shopify is the best website builder for creating your online store if you are considering an alternative to Wix. It provides the type of creative control users have come to expect from Wix with powerful e-commerce tools. This drives sales and supports your online store's growth. A range of features are available with Shopify that Wix does not support, for example:
Imports of bulk products
An area for storing customer payment information after logging in as a customer
A message about abandoned shopping carts
The integration of multiple channels
While Wix does offer eCommerce functionality, these features demonstrate why Shopify is superior when it comes to growing and managing your business. For example, Wix offers discount codes that you can create. But does not offer a way to limit how many times you can use them. By using Shopify, you can create promotional codes, apply them to specific products, and limit their use.
It's hard for Shopify to compete with Wix on customization. The Shopify platform has a number of robust and specific marketing features to support your store's growth. Along with helping you to maximize your online presence as a business.
There are both disadvantages and advantages to Shopify
Advantages of Shopify
Simple and easy to use: Despite being a big machine, Shopify feels friendly and intuitive to use.
Quite attractive: These templates are lightweight, sleek, and modern.
It's future-proof: Would you like to see your online store grow in the future? With Shopify, you'll have no problem expanding.
Disadvantages of Shopify
Search engine optimization: It's strange that Shopify's URL structure is not flexible at all, which isn't ideal for search engine optimization.
It does not offer multilingual options: You cannot create stores in more than one language on most online builders. The problem with Shopify is that you have to purchase a third-party app to use it – and this is not free.
The pricing and plans of Shopify
You can choose from five different subscription plans, and you can test out the service for 14 days if you're starting a new store. Your existing website is enough to sell products through Shopify Lite (9 Dollars per month). Below, we provide a detailed breakdown of Shopify's pricing.
Shopify Basic (29 dollars per month), Shopify (79 dollars per month), and Advanced Shopify (299 dollars per month) plans offer a range of powerful online store tools. Along with access to the native website building capabilities on the platform. Additionally, organizations can purchase Shopify Plus solutions at a customized price.
What makes Shopify better than Wix?
If you are a beginner interested in building an online store, Shopify is the best choice. The package includes all of the tools and content necessary for setting up and managing an online store.
With all the essential features of eCommerce software, yet an easy-to-use interface, the platform was designed with beginners in mind.
Weebly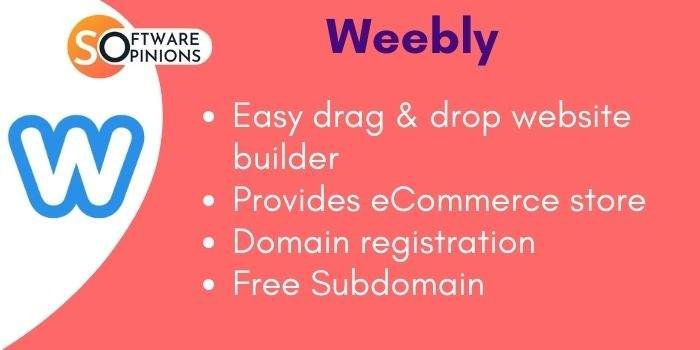 Business sites should consider using Weebly as an alternative to Wix. Weebly is a great option for businesses because it offers more space and more in-house features than Wix.
As opposed to Wix, Weebly comes with its own features. Most of the apps used by Wix are third-party apps, which can increase the overall cost of developing a website. The extensive range of built-in features offered by Weebly helps to keep costs low. You can create forms, photo galleries, email marketing campaigns, and more.
Although Weebly is easier to learn than Wix, it does have a steeper learning curve. According to our research, people found it to be 22% more challenging to use than Wix.
So Weebly requires a little more getting used to – but if you're not technically proficient, you shouldn't be worried, it's still designed for people who don't code.
There are both disadvantages and advantages to Weebly
Advantages of Weebly
Simple to use: We think this is the easiest one we've tested so far.
Designs that respond to mobile devices: With Wix, you don't have to concern yourself with mobile viewing. With Weebly, your content is automatically resized depending on the template.
The best option for large websites: Weebly is capable of handling dozens of web pages at the same time, so you can dive deep into your favorite topic.
Disadvantages of Weebly
Lack of flexibility: If you love designing websites and prefer complete control over their look, working on a grid can be a frustrating experience. The elements in your design cannot always be placed exactly where you want them.
There are no multilingual options available: Creating a site in multiple languages will be difficult for international website owners. Although there are third-party options, there aren't any out of the box solutions.
Insufficient number of templates: There is a good selection, but we wish there was a wider range of choice for creating websites.
The pricing and plans of Weebly
A decent free forever plan is available on Weebly, and there are three paid subscription options as well. Starting at 6 Dollars per month, you can connect a custom domain to the service.
Unlimited storage, a free domain, and the removal of platform advertising are included in the 12 Dollars per month price. But 26 Dollars per month unlocks advanced eCommerce and marketing tools.
What makes Weebly better than Wix?
Website building platform Weebly is more suitable for people who do not want to write even a single line of code to build their eCommerce sites. You may easily customize the look and feel of your site with the drag and drop builder.
GoDaddy
Although GoDaddy has been at the forefront of internet services since the 90s. It is only recently entering the website building market. With their drag-and-drop drag-and-drop interface, they closely follow the Wix model. It's easy to learn and easy enough for people with no experience to use.
In addition to its social media integration and email marketing capabilities. GoDaddy positions itself as a one-stop-shop for web hosting and domain registration.
That makes it the perfect solution for ambitious site builders who are already planning multi-channel campaigns. Especially if you decide to sign up for their eCommerce plan. On the other hand, these tools are largely unavailable for the lower tier plans.
It is important to note that one of the biggest complaints about GoDaddy is that SEO can be hindered. Such as the auto-generated URLs that change every time you edit a page. Additionally, like some other Wix alternatives, it does not have a store of add-ons or apps.
There are both disadvantages and advantages to GoDaddy
Advantages of GoDaddy
It is extremely user-friendly for beginners
The plan offers a decent free forever option
Tools leveraging Artificial Design Intelligence (ADI)
Disadvantages of GoDaddy
There are a number of advanced features that are missing
The tools available to do Ecommerce business online are limited
A greater degree of design flexibility would be beneficial
The pricing and plans of GoDaddy
There are four paid options available to premium users at GoDaddy, along with a basic free plan. It is priced between 9.99 Dollars and 24.99 Dollars per month, and you will need to pay more for e-commerce capabilities.
A basic subscription costs 9.99 Dollars a month
The standard rate is 14.99 Dollars per month
The premium plan costs 19.99 Dollars per month
The cost of eCommerce is 24.99 Dollars per month
What makes Godaddy better than Wix?
Web hosting and domain name registration are handled by GoDaddy, the big dog of the industry. If you want a platform that will allow you to build more than just a few pages through a drag-and-drop builder. For that GoDaddy would be the right choice. Using GoDaddy you can run and scale your website without any problems.
Zyro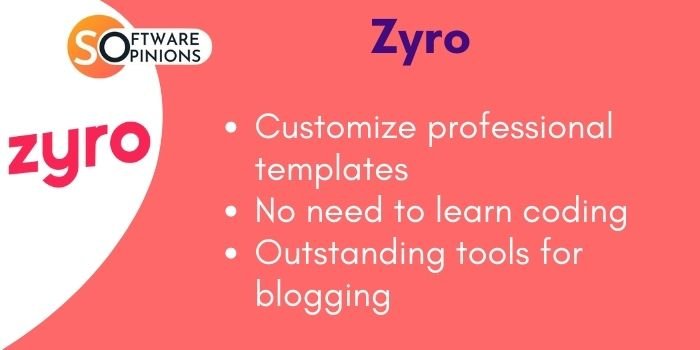 Because of Zyro's excellent value for money, it is my number one choice for those on a budget. This program is easy to use, includes a good selection of attractive templates, and boasts a decent drag-and-drop editor.
You can choose from a variety of ecommerce tools to build an online store that's fully functional. We are confident you will find everything you need.
Zyro's website builder makes getting started simple. You should begin by picking a theme from their huge library of templates and selecting one that stands out to you.
You can then customize everything. Images, text, and other elements of your website can be modified, and Zyro's AI tools can be used to generate designs, content, and call-to-action buttons.
Visit Zyro's official website at www.zyro.com
Website builders like Zyro make it easy for anyone to quickly and easily set up an online store or build a beautiful website.
The tool also includes AI-driven marketing tools, such as a Writing Tool, Logo Builder, Slogan Generator, and Business Name Generator.
There are both disadvantages and advantages to Zyro
Advantages of Zyro
The prices are very competitive
for an ecommerce builder that's easy to use
Featuring an intuitive drag-and-drop interface
Disadvantages of Zyro
There are many advanced features lacking in this application
The number of integrations available is limited
The pricing and plans of Zyro
You can choose between four premium subscription plans with a 30-day money-back guarantee and significant discounts over time. A four-year Basic subscription costs 2.47 Dollars per month, while a four-year eCommerce Plus subscription costs 12.67 Dollars per month. The cost of shorter subscriptions, as well as renewals, can be substantially higher than the cost of long-term subscriptions.
What makes Zyro better than Wix?
As a website building tool, Zyro is cheaper than Wix. Its main focus is to provide users with an easy-to-use interface that features easy-to-use tools to customize and build your business or personal website, or your online store.
With Zyro you have access to AI-based marketing tools, such as a Logo Builder, Slogan Generator, and Business Name Generator. Additionally, it has an AI Writer and AI Heatmap tool to make further content optimization possible.
Webnode
As of now, we have reviewed Wix alternatives whose price ranges are similar to Wix. But what if you want to look for something cheaper and easier to use? Website solutions from Webnode are designed to be simple and quick. They are used to set up, with minimal risk and investment, but less design flexibility and features.
Webnode is appealing because of its convenience. In addition to its economical plans-which include a generous free plan with unlimited pages-Webnode offers a faster design experience. So you can get your site up and running quickly. Webnode's disadvantage is the lack of customization options. This makes it more suitable for smaller sites, such as landing pages and event websites.
There are both disadvantages and advantages to Webnode
Advantages of Webnode
Languages available in different languages: Your website can easily accommodate users who want to switch languages.
This is good for Search Engine Optimization: When it comes to ranking your website for keywords, Webnode offers plenty of options.
Design templates: Due to their responsive nature, the designs are modern and will look great on any device.
There are also email addresses included: Webnode's paid plans include email accounts, which is not as common as it used to be. It's the norm to pay extra for email accounts with other website builders.
Disadvantages of Webnode
Features that are missing: You won't find any social media widgets or a search bar. Furthermore, it does not include an app store where you can add additional features to your site.
The blog is very basic: Webnode is okay if you're just blogging occasionally. However, if you're serious about blogging, it's not at all what you need.
The pricing and plans of Webnode
The Free plan: The cost of a month is 0 dollars. The free version comes with 100MB of storage and advertisements.
The Limited plan: A monthly fee of 3.90 dollars. This site still has an ad in the footer, but you can connect your own domain name.
The Mini plan: A monthly payment of 7.50 dollars. Includes a custom domain (1st year) and an email address, but also an advertisement.
The Standard plan: The monthly payment is 12.90 dollars. There are 20 email accounts and no ads.
The Profit Plan: It costs 22.90 dollars a month. For sites with up to 100 email accounts and 5GB of space, this is quite a leap.
What makes Webnode better than Wix?
When you need a website that is multilingual. For those of you who want a professional-looking email at a discount rate. This makes Webnode one of the best Wix alternatives.
Strikingly
There's a relatively new website builder that stands out: strikingly is incredibly affordable. You will be able to choose from a broad range of stylish templates and enjoy great features such as a Simple Store and blogging tools. There is no obligation to upgrade from the free version.
The free builder has a good all-around feature set for beginners. The process of creating one-page websites is incredibly easy – you don't even have to know a single line of code! With Strikingly, you can create stylish, professional single-page websites in about 15 minutes by choosing from their collection of templates.
By making the Simple Store feature available on the free plan, anyone can start making money through their Strikingly website right now. There's only one product you can add with unlimited stock on the free version, so if you want to sell more, you'll have to upgrade or go for Shopify instead.
The free version of Strikingly includes a wide range of blogging features. You can use social bookmarking, an RSS feed and search feature, a comments section, and display categories. You can start writing right away, all you have to do is add the Simple Blog feature to your website.
In other words, if you're a blogger but don't want WordPress to be too technical. Also if you want a small blogging platform to start with, then Strikingly is a great choice.
In an effort to achieve a higher degree of creative control, like that offered by Wix, Strikingly templates make it easier to create your website with WordPress or Squarespace. In other words, if you're happy to let the template take care of most of the work then this is a great option. If you don't want to pay anything, you can get your website up quickly, easily, and without spending a dime!
There are both disadvantages and advantages to Strikingly
Advantages of Strikingly
Builder that is versatile and all-inclusive
The interface is very easy to use
Free forever plan that's decent
Disadvantages of Strikingly
The flexibility of design is limited
It's not the best option for larger sites
There are some notable absences of advanced features
The pricing and plans of Strikingly
Along with three premium options, Strikingly offers a free forever plan that is fully functional. You can try all paid plans for 14 days for free, and you get significant discounts with long-term subscriptions.
A subscription can be had for as little as 8 Dollars per month or as much as 49 Dollars per month, but expect to pay at least 16 Dollars per month if you want any more features than those provided by the basic subscription.
What makes Strikingly better than Wix?
A website builder and management platform that offers everything you need to build and manage a website. It also includes marketing tools and analytics. It's possible to create a beautiful portfolio site using Strikingly or to sell your own products using the website.
One.com
There are multiple packages which all include the no-coding website builder. Unfortunately, there are extra fees. However, depending on your price tier, you can have a limited number of pages. Hosting, email, and an online store are also available through
There are both disadvantages and advantages to One.com
Advantages of One.com
Quite affordable: It's hard to find a cheaper option when it comes to small, professional websites.
Hosting is included: It is possible to use both the website builder and WordPress simultaneously.
The designs & templates: Their responsiveness and automatic adaptability allow them to work on any device. Additionally, they are typically modern-looking.
Disadvantages of One.com
The number of pages is limited: One of the features that get capped is the number of pages your website can have.
Limitations on blogs: As a result, you will need to manage the blogging system separately since it is not integrated into the website builder.
A limited number of features: Several elements are missing, such as a 'find us' widget (e.g. with Google Maps).
The pricing and plans of One.com
The Standard Plan: A monthly payment of 2.49 dollars. For small projects with less than 5 pages. The Premium Plan: The cost per month is 7.48 dollars. Featured with 200 pages and a good backup system. Includes Beginner Hosting and the Premium Website Builder. The Webshop Plan: A monthly subscription costs 16.99 dollars. Comes with an online store.
What makes One.com better than Wix?
If you have a small site and you're on a tight budget, it's not a bad choice. Then you could switch to a CMS like WordPress or Joomla if you like that idea. This makes One.com a better alternative to Wix.
Final Words: Wix Alternatives
Currently, the DIY website builder market is blossoming and users are finding a platform that suits their style and business goals. To determine which platform best suits your needs, first determine your style and business goals.
When it comes to designing your website, how much time are you willing to spend? Do you have any specific web pages in mind? Which elements matter most to you, customization, design, and personalization? The answers to these questions will determine which platform is best for you. Whether that's one of the Wix alternatives in this list or perhaps even Wix itself. In the event that you want an especially designed website for your business, you can always hire a professional designer.
Frequently Answer Questions: Wix Alternative
What other options do I have besides Wix?
A managed cloud hosting server can be used in combination with a WordPress page builder instead of Wix.
What are the best alternatives to Wix?
There are currently several WordPress page builders that offer similar design capabilities. Creating a powerful website on a managed server reduces the amount of server management issues by many orders of magnitude. A key advantage is that this solution is significantly less expensive than similar WIX-based solutions.
What is the price of Wix per month?
15 Dollars a month is the most basic package offered by Wix.
What is it that is causing people to leave Wix?
Having your online store grow will make Wix an unsustainable choice. Despite its limitations, it's a bit too much of a hassle for most users. That is why more and more companies are switching to self-hosted platforms as companies grow.