Here we conduct a list of OBS Studio Alternatives because these days as technology is touching new horizons every day, day-to-day needs are also increasing. Now the age-old patterns of life are changing. The gatherings for business meetings, seminars, education, etc are way more digitally possible. These have become easier because of technology.
One such technology that has come up as a boon to the digital outlook is screen recording. To easily record their computer or mobile screen for a duration of time and use that video for further use in the future. This screen recording is done with the help of a screen recorder App. There are several apps available as paid and free versions. These apps not only can be used for educational or business purposes but also play a vital role in video gaming.
What is OBS studio?
OBS Studio is a software suite used for screen recording and broadcasting in real-time. OBS studio stands for Open Broadcaster software studio. It is created by the OBS project. Available for Windows and macOS for free.
This app works as encoding, recording, and transmitting in real time to preset destinations like YouTube, Instagram, and Facebook. The app doesn't support editing the screen recorded video, for which other options are to be looked upon.
Why do users look for OBS Studio Alternatives?
The software supports screen recording but for editing videos, users need to find editing software. This one is the biggest reason people look for OBS Studio Alternatives. Because in the market many of the software are available that provide screen recording and editing facility.
List of OBS Studio Alternatives
Here we conduct a list of the best competitors of OBS Studio that helps you to record and edit videos without having any kind of issues. We conduct both paid and free screen recording software. So, go through with the list and start recording your screen now.
1.Camtasia- Excellent Recording and Editing Software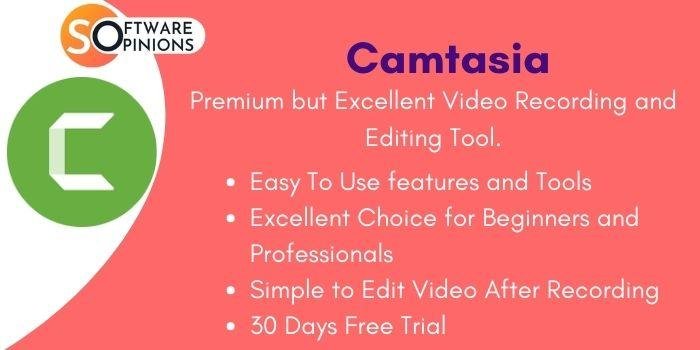 Camtasia is a screen recorder software, which is developed by TechSmith. The software is available for windows and macOS. This app is alternatively used for screen recording and broadcasting video games. App not only records the screen but also supports audio commentary. Audio can be real-time or can be fetched from other sources. Software is available for users to edit the screen recording video by splitting, cropping, and trimming the video to some extent. It is premium software that comes with an advantage of a free trial of 30 days. The only drawback of Camtasia is it is costly compared to others that's why users search for Camtasia Alternatives too.
2.Bandicam- Reliable Choice for Windows Users
Bandicam is one of the free software programs available for Windows users. This is a very simple and easy-to-use software that allows its users to access almost all features possible. The features include audio commentary and editing.
It allows users to perform real-time transmissions along with real-time illustrations. This feature is highly commendable for educational purposes, business meetings, and seminars.
The software allows its users to screen records without any time limit. This app also enables its users to select a recording type from diverse modes like a certain area or full screen.
3. Screencastify- Screen Recorder For Chrome
Screencastify is an inbuilt extension of Google Chrome, therefore there is no need for the new installation of any other app. This is useful enough for full-screen video recordings and also supports audio capture from the system library and microphone.
It also supports highlighting its contents by using annotations and on-screen illustrations. This app allows users to share their video recordings through emails, youtube, and other similar platforms.
Though this is software that lives within google chrome and allows its users free access to screen recording. But it limits its users to access only upto 5-10 minutes for free and then it offers a paid service.
4. Record it!- Record Screencast Fast & Free
Record it! is a free app available for iOS devices like iPhone, iPad, iPod, etc. This app supports a range of features like audio editing. This also comes with the ability to use filters for facetime convos and adjust the playback speed. Easy to use for iOS users and the user can also directly upload to any broadcasting destination like YouTube.
Allows users to record their favorite games, attend and record webinars and tutorials, which can be used in the future. Also, this app supports audio comments which help in improvisation of the purpose of screen recording.
5. ScreenFlow- Best For MacOS Users
Screenflow is also an option for the OBS studio, which can be used for screen recording and video editing purposes. This is basically developed for macOS. Software is used for recording high-quality videos and also allows full screen as well as partial screen capture. With the help of this software, a user can easily record the screen and use annotations to highlight its content. This software comes with a special feature known as Animated GIF export, which easily utilizes motion graphics in the videos.
6. CamStudio- Free Screen Recording Software
CamStudio is a software used in screen recording of desktops. The software provides the ability to add high-quality audio captions to the videos. This software is free of cost and can be downloaded easily. The first-time user can learn it within a few minutes and can start screen recording very soon.
Valuable for users as the video outputs can be utilized as per users' demand. Like if the user wants a short video, it is possible. And if the user wants the best quality videos for burning onto CD/DVD, it can be done too with this software.
Also, Read- Screen Recorder Best For Free Fire
Conclusion- Alternatives of OBS Studio
These are a few best alternatives to the OBS studio, which users may use instead to get their screen recording done. These are free softwares and easy to download. These softwares are simple to use and carry out various purposes. All these softwares are developed keeping the requirements of video game players, students, and business personnel in mind.