Sometimes it gets boring to play a single game again and again. And we are saying this Because We found that most of the players are looking for Games like Roblox or Roblox Alternatives.
Roblox, an online gaming platform developed and published by Roblox Corporation, is the winner of the BAFTA Games Award for EE Mobile Game of the year and is commanding the nation. This game is certainly unique as it enables gamers to exhibit their creativity and invention. They can customize Avatar for themselves and play a wide range of games constructed and designed by other gamers like you. It makes it quite popular – an MMO (Massively Multiplayer Online) Sandbox video game.
There is enormous competition in the gaming market as the internet and stores are flourishing with innumerable games for adults and children, but what makes gamers intrigued for a long time in a particular game is its distinctive features. But if you are still looking for little quirkier games like Roblox and ready to squeeze your creativity a little more, we are here to help you with a list of such games which will give you the same feeling and experience.
Alternatives of Roblox Game
In the below-mentioned list, you will find the best games to play like Roblox. So if you got bored with Roblox then easily switch on any of them to make your playing experience more entertaining.
Minecraft (Rating: 4.6 | Price · $7.49)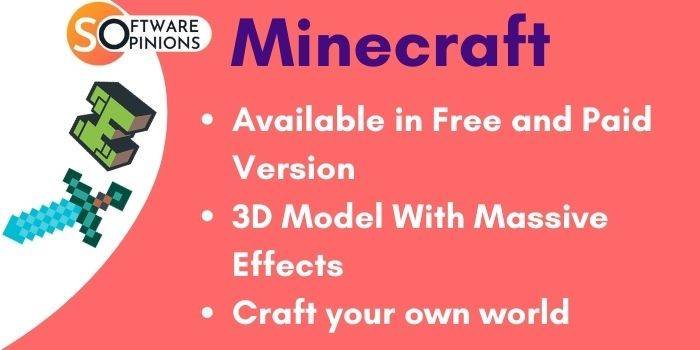 Platform: Windows, Mac, Android, iOS, Xbox, PlayStation, Nintendo.
Minecraft is a sandbox video game produced by Markus Notch Persson.
This game is extensively popular and played by an enormous number. It gives you a similar feeling to Roblox. Not only does it allow you to craft your world through blocks with infinite resources, but also it allows you to play in a 3D model with massive space, exploration, combat, and multiple maps which have different structures and aspects.
Lego Worlds (Rating: 4.2 | Price · $19.99)
Platform: Windows, Mac, Xbox, PlayStation, Nintendo
Lego Worlds is a Lego-themed sandbox play produced by the Travellers Tales with the handholding of Warner Bros. LEGO Worlds allows you to build whatever you want using an unbounded amount of LEGO bricks. Gamers can design all sorts of things, houses, cities, and whole new territory. If they discover and accumulate different objects on the map, they will be awarded studs (game currency). With the studs, you can buy plenty of things in the game. It is one of the best games like Roblox to play but might be expensive to play.
Terasology (Rating: 4 | Price · Free)
Platform: Windows
Terasology is an open-source game that presents the player with a stunning sandbox with components from other classes. Even though the game is still adding new features, it now offers some fresh designs compared to games of the same genre. This game gives the gamers a related experience to Minecraft and Roblox, where the players can design their worlds for other gamers to tend. Terasology intends to add building intensity to the gameplay circle and cheer gamers to assist as custodians of the world rather than more dynamic participators. In the list of Free Games like Roblox terasology is the finest option.
The only drawback is you can play this game on windows only.
KoGaMa (Rating: 3.8 | Price · Free)
Platform – Website
KoGaMa, developed by Multiverse ApS, is a minimalist game that relates to Roblox. It allows its players to build some magnificent stuff. In this game, the players have to assemble the stars to form their character known as Avatar. The player will confront other players in campaigns to compete to persist.
Kogama is an online world that allows you to play, organize and assign games alone or unitedly with friends. Plunge into racing, PVP action, or join a simple hang-out to boot up among friends.
Terraria (Rating: 4.4 | Price · $4.99)
Platform – Windows, macOS, Linux, iOS, Xbox, PlayStation, Nintendo
Terraria, developed by Re-logic, offers an enormous atmosphere to traverse and infinite missions to accomplish. The three primary gameplay tones of this sandbox game are digging, fighting, and fabricating.
Terraria is an action-adventure play with a large stage and various maps for exploration. It can take you months to search for all the matches. The vast world of this game makes it a breathtaking experience worthy of your time and attention. It is the ablest alternative for people looking for an action game with an amalgam of sandbox devices. It means, in this game, you can have exciting action and the ability to use your creativity to produce unusual things. All these characteristics and choices make this one of the best games like Roblox.
Garrys Mod (Rating: 3 | Price · $9.99)
Platform – Windows, macOS, Linux
Garrys Mod is a sandbox game produced by Facepunch Studios and published by Valve. If you are looking for a thrilling and fun-loving amusement, Garry's Mod is an ideal alternative for you. This game grants the players to do everything they desire without any reservation or stipulation. It equips you with the equivalent exposure as Roblox but with higher intensified graphics. There is an extensive array of objects to apply in this game and innovative things using those objects. All these specialities make it an enjoyable game to savour and try every madness that you can.
Block Heads (Rating: 4.3 | Price · $9.99)
Platform – Android, iOS
The Blockheads is a survival sandbox autonomous video game designed by Dave "magic dave" Frampton, an indie producer and proprietor of Majic Jungle.
Another good alternative like Roblox is The Blockheads. This game is a block-based sport in a 2D environment. There is a character named Blockheads who can build and damage the sites and block to traverse distinct places and things. Also, it allows you to make amazingly innovative places. This game empowers you to apply your creativity to produce incredible things like Roblox. This game will present you with a similar experience but in a 2D world. Players can traverse several things and volumes utilizing a variety of articles and places such as oceans, hills, caves, and sands. The players can design engaging structures with the help of the ingredients they will discover in such areas. If you are an android and iOS lover then Block Heads is the best Roblox Alternative.
Creativerse (Rating: 3 | Price · Free)
Platform – Windows, macOS
Creativerse is a sandbox survival game produced by Playful Corp. Inspired by Minecraft, it takes place in a traditionally formed world of blocks where players communicate with flora and fauna, craft items, and build structures.
This game enables players to utilize blocks to build houses, communicate with plants, animals and explore and accumulate vital elements. The players need to assemble everything they can to outlive the invasions from distinct beings and other players. It has so many new highlights that enhance it is worth allowing them to rotate blocks, use blueprints, logic gates, and much more. Those who are operating windows and MacOS rather than creativerse are the best game to play like Roblox.
Fortnite (Rating: 3 | Price · Free)
Platform – Windows, Mac, Linux, ios, Xbox, PlayStation, Nintendo, Android
Fortnite, developed by Epic Games, is available in 3 different styles that otherwise assign the same generic gameplay and game engine : Fortnite: Save the World, a cooperative hybrid-tower defence-shooter-survival game for up to 4 players to strive off zombie-like beings and protect objects with tricks and barriers they can develop; Fortnite Battle Royale, a free-to-play combat royale sport in which up to hundred players compete to be the ultimate person surviving; and Fortnite Creative, in which players, are provided complete freedom to design worlds and combat grounds.
Also Read- Best Screen Recorder For Free Fire
Conclusion
So these were some of the best alternatives of Roblox, which are similar to Roblox, and some are more appealing than you can presume.
Each of these has something novel to offer you. So if you are looking for a diverse or more enjoyable experience from Roblox, venture into these alternatives and select the one you prefer.
Happy gaming.