If you want to learn how you can find a QuickBooks ProAdvisor, then this article is for you. While finding a QuickBooks Proadvisor, you must first establish a list of the characteristics you want in an accountant. Then be ready to conduct some internet detective work to identify someone who fits your ideal profile. Below are mentioned you can check that how to find a QuickBooks ProAdvisor and a lot more about it.
What Is a QuickBooks ProAdvisor, and What Do They Do?
A QuickBooks ProAdvisor is an Intuit credential given to independent accounting professionals who have verified QuickBooks experience. Accounting experts can get discounts, assistance, and software from Intuit as part of the QuickBooks ProAdvisor network, which also makes them more appealing to small business owners in need of accounting services.
QuickBooks ProAdvisor can assist you in selecting the appropriate version of QuickBooks software for your business, setting up your QuickBooks file, including the chart of accounts, and answering any accounting issues you may have.
Where to find a QuickBooks ProAdvisor
The five best sites to look for a QuickBooks ProAdvisor are listed below.
QuickBooks ProAdvisor Website
Click Intuit's Find a ProAdvisor page to find a QuickBooks ProAdvisor near you. By entering your city, state, or ZIP code, you can quickly and simply find a ProAdvisor in your area. You can narrow down your search even more by specifying the services you require.
QuickBooks Live
QuickBooks Live QuickBooks Live connects small businesses with QuickBooks ProAdvisors through an online accounting solution. You will work with these pros through QuickBooks rather than an independent ProAdvisor. QuickBooks Live Bookkeepers has experience in virtually every industry.Cleanup/setup, ongoing bookkeeping, and month-end close are the three aspects of their service. You're not restricted to a particular amount of time per month, and you can schedule a video chat once or twice a month to discuss any issues or evaluate month-end results.
LinkedIn
LinkedIn is a professional networking platform that also serves as a great referral generator. Searching for "QuickBooks ProAdvisor" and filtering the results for your location is simple.
Local groups
There are a number of QuickBooks ProAdvisor meetup groups across the United States around both online and offline. To see if there is a group in your region, go to Meetup.com and type in the keyword QuickBooks. If you find a group that interests you, contact the organizer and explain that you are seeking a QuickBooks specialist.
Read More: Best Custom Domain Name Providers
5 Steps To Choose QuickBooks ProAdvisor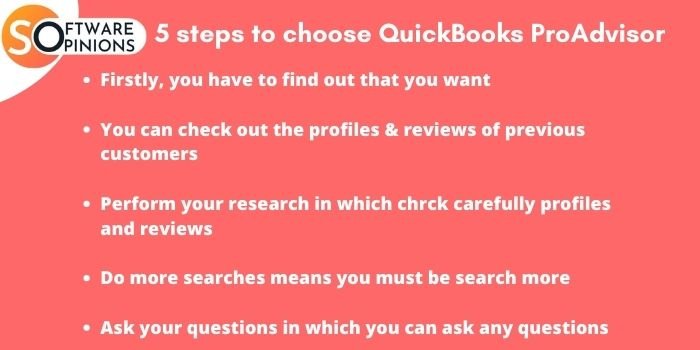 Here are five steps explained to choose the best ProAdvisor for you.
Find out what you want
Firstly, find out what you want from your accountant. Determine what they can do for your business by helping you. Then think about the kind of engagement you'd like to have. Do you want someone who will advise you when you have questions, or do you want someone who will take the initiative? You can better choose someone to satisfy those demands once you have an overview of their credentials, personality, and job-specific responsibilities.
Check out the profiles and reviews of previous customers.
Look through the profiles on the Find a ProAdvisor page. Choose a ProAdvisor who is certified in the QuickBooks software you choose, whether it's QuickBooks Online or QuickBooks Desktop.
Perform your research
Do a comprehensive background check on ProAdvisors once you've found them. Check out their profiles and reviews to discover what they have to say about their profession. Go to their website and look at their specialties, then google them to see if they have any published articles.
Do more searches
A ProAdvisor can be found on a variety of venues, including LinkedIn groups, reputable accounting blogs, and Facebook groups. You can conduct a search for accounting challenges that have arisen in your company and check for articles in the results. If the author of the document is a QuickBooks ProAdvisor, there's a strong possibility they'll be able to help you.
To get a favorable referral from an accountant, get counsel from a lawyer, business advisor, or banker. If you require the services of a certified public accountant, visit the website of the American Institute of Certified Public Accountants (AICPA) (CPA). Make certain that anybody you hire is a QuickBooks ProAdvisor.
Ask your Questions
After you have filtered out your ProAdvisor searches, ask questions. Interrogate them about their previous experiences, who they have worked with, how they work, and what programs they use. Ask yourself the following six questions that are important to your business:
Have you had a lot of experience working with small businesses?
What kind of background do you have in my industry?
What services do you provide?
What can you do to help me grow my business?
How will I interact with the people with whom I will be collaborating?
What approach are you going to employ to charge for your services?
When you first start using QuickBooks, you should hire a QuickBooks ProAdvisor to assist you in getting everything set up correctly. Finding the appropriate expert to assist you with your accounting needs is critical to your company's financial stability and growth. The purpose of the above post was to help you discover the best accountant for your needs.