Now, Take a look at the difference between Twitch Partner vs Twitch Affiliate. Twitch popularity is indeed governed by two major milestones: the twitch affiliate and the twitch partner respectively. Be it any streamers, as an affiliate, their foremost priority comprises to attain the twitch partner status and make their passion turn into earning as well.
While the era of streaming across all the media and online platforms has flourished. The very aspect of the righteous content to feed indeed plays a significant role. Well, with a similar narrative it has also become important to hunt for intellectual minds who can create the best verse of content, gaming music, art and shows, and what not.! Yes, that's how the definition of a twitch partner goes about.
Twitch partners are highly skilled personnel with critical thinking and a righteous approach. They are responsible to make the streaming of content livelier with real-life experience. There are innumerable benefits that get enabled to the twitch partner in the due course including that of extra financial support, Past broadcasts with about 60 days storage, and of course, the fan can apply to their channels.
Difference Between Twitch Partner and Twitch affiliate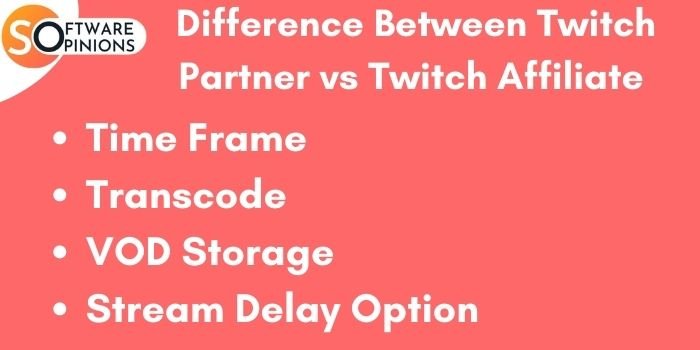 The twitch affiliate is found to cover over a handful of audiences and even the monetary features are quite small. Affiliates can be called the fresh players of the league who are giving way to the most promising content and driving traffic.
While on their hand, the twitch partner encourages a larger pool of audience under its very influence. Having highly tailored features and monetization approaches, the partners are good experienced players, and the volume of viewers traffic by them is indeed tremendous too.
Most important the timeframe for the payout for an affiliate is 60 days while for a partner in 45 days
As far as the transcode is concerned, the twitch affiliate only has it available with priority access while a twitch partner they do have complete access to transcoding
VOD storage of twitch affiliates is for about 14 days, quite less while that of a partner in 60 days
As an additive stream delay option, for about 15 minutes the twitch partner can have a stream delay option applicable while no such option exists for a twitch affiliate
While we talk about the emotes, the affiliate can only have 1 sub emote, contrary to which a twitch partner can go on to expand around 50 subs emotes
The interesting feature of Bits Cheering does not come with customer Cheer motes or bits badges for an affiliate, but for a twitch partner these perks are readily available
Benefits Of Twitch Partner Vs Twitch Affiliate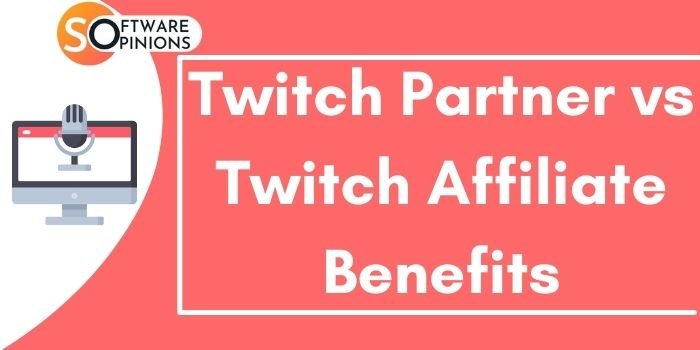 A twitch affiliate is somewhat closer to the benchmark of content creation and streaming. Dropdown is the list of benefits associated with the Twitch partner and an affiliate:
There is no doubt to say that the perks being enjoyed by the twitch partners are far more than that of the twitch partners.
The ads in the subscription are the finest monetization feature for the twitch partners.
Twitch donation can also be considered as the fine online way to save money from the viewers, especially through alerts or notifications to donate etc.
Sponsored link placement is another way over the broadcast window which can allow you to add reward benefits for your viewers as well.
Twitch partners can also create polls as well all those associated incentives in the form of points based upon the viewers a twitch affiliate has
In addition to the perks added above the twitch, partners can do much more on the fact that they are also free to use a self-controlling tool emote which allows them to create teams for the stream and a demarcated line for all their priority customers. And not to forget that the Twitch partner status is also accompanied by the prestigious verified channel mark.
Moreover, whatsoever be the progress which you nail down as a content creator, all those can go towards the dashboard of your under "Insight's tab" and makes you aware of the mindset of the viewers.
Twitch Partner Vs Twitch Affiliate Drawbacks
Having discussed all those essential aspects relatable to the twitch partner and twitch affiliate there are also a few drawbacks to underline
While we talk about the transition from a twitch partner to an affiliate, the benchmark is not optimized well. Even if somebody streams two times a day with a few hours in hand, these can easily crack the eligibility criteria without any worry.
As a preliminary requisition for anyone to be a twitch affiliate it comprises a few foremost aspects including. At least 50 followers across the channel. Approx. 500 minutes of broadcast in the last 30 days including 7 among them to be a unique broadcast. These aspects may somewhat also sound to be kind of those minimum essentials required for someone to become an affiliate on twitch.
Even the follower count is not adjusted well for this very transition.
Also, Read – Twitch Vs Discord
Steps to activate Twitch TV Dark Mode
To Conclude: Twitch Partner Vs Twitch Affiliate
With Twitch, the platform and customization both are being enhanced with the twitch stream options available and all you need for a good start is your interesting content, broadcast, and the viewer's list. For sure, while a sustained and essential step if taken along this streaming journey, the opportunity to flourish well in this domain can be achieved by many.